This page is a supplement to our book The easy Guide to Your Walt Disney World Visit 2017. We updated the 2017 edition in March 2017—if you bought the 2017 edition before then, get your update by following the instructions below:

Below you can find larger/color versions of the key images and tables in the book, advice on picking the best days in each park (because of changes in how far in advance Disney publishes details, not as robust as we'd like) and specifics on what changes are in each update.
Click the links below to get to the sections of this page that interest you!
Large printable color maps of each park, both in image and PDF versions. Click the images to enlarge them.
Images: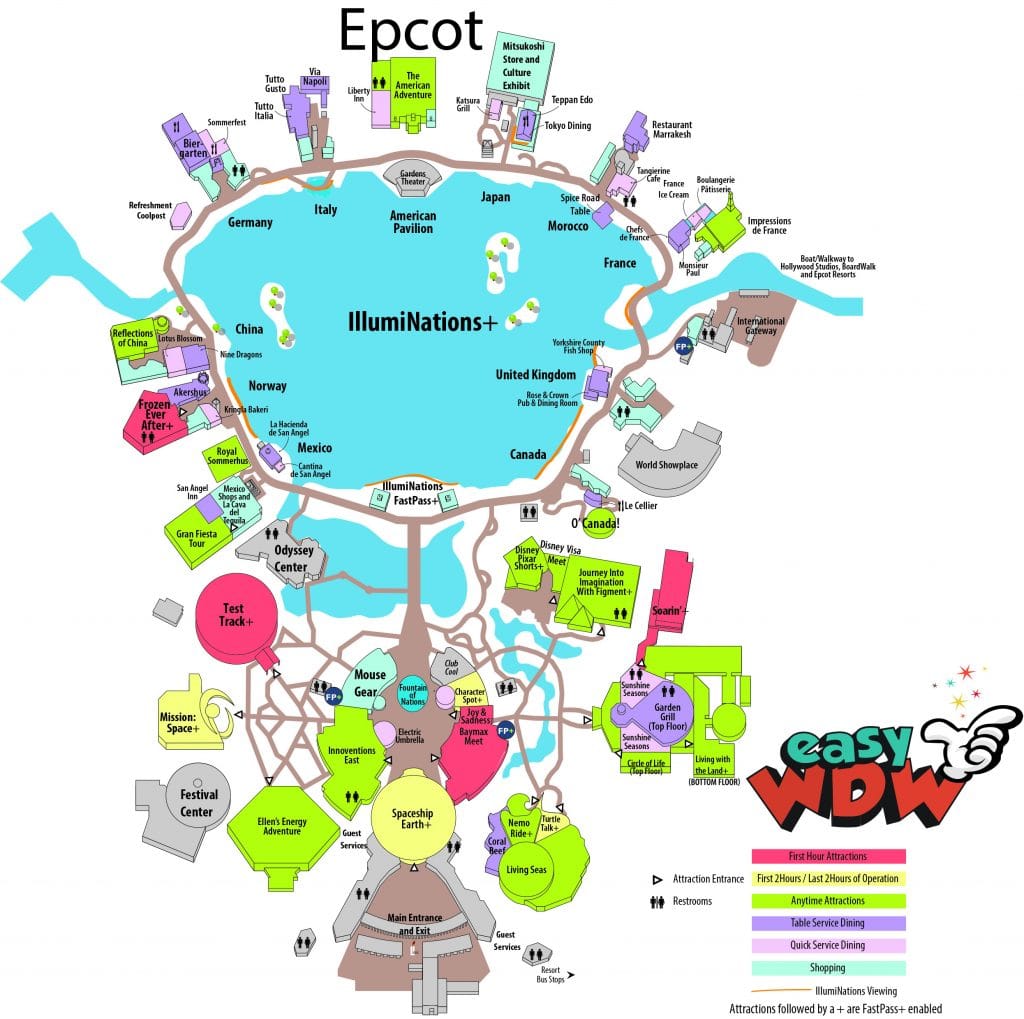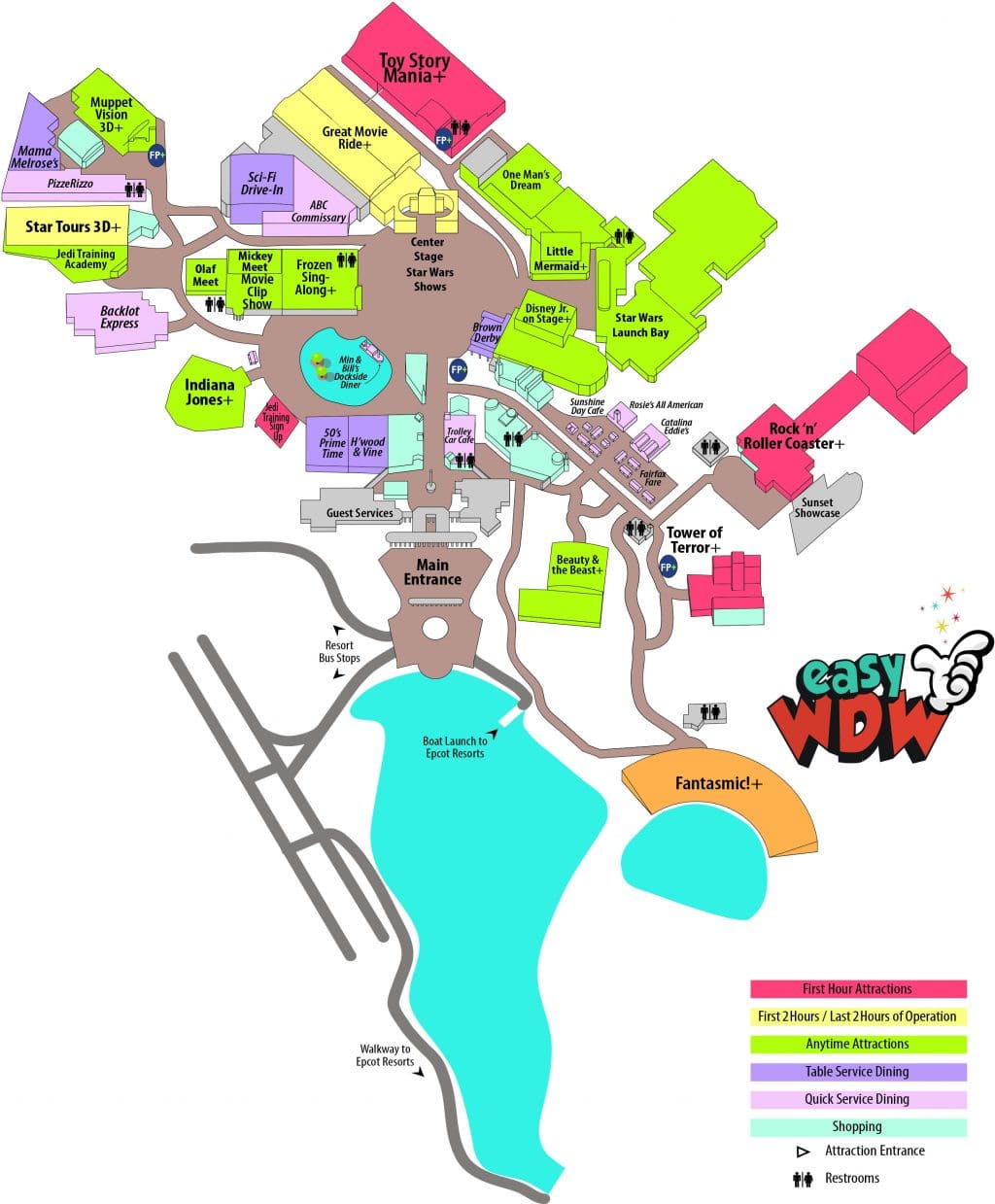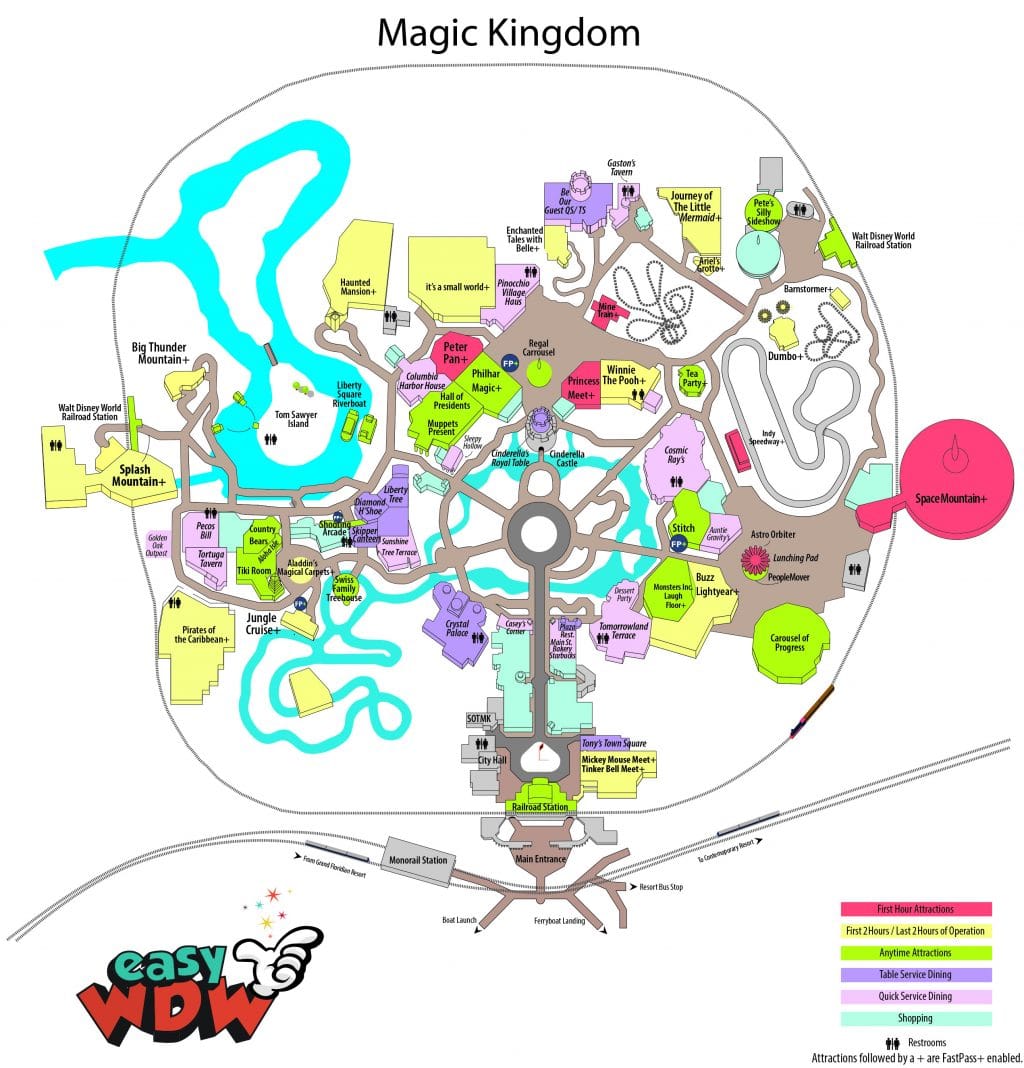 PDFs:
Printable larger and/or color versions of the harder-to-read charts and tables in the book. Click the images to enlarge them, or links to open them.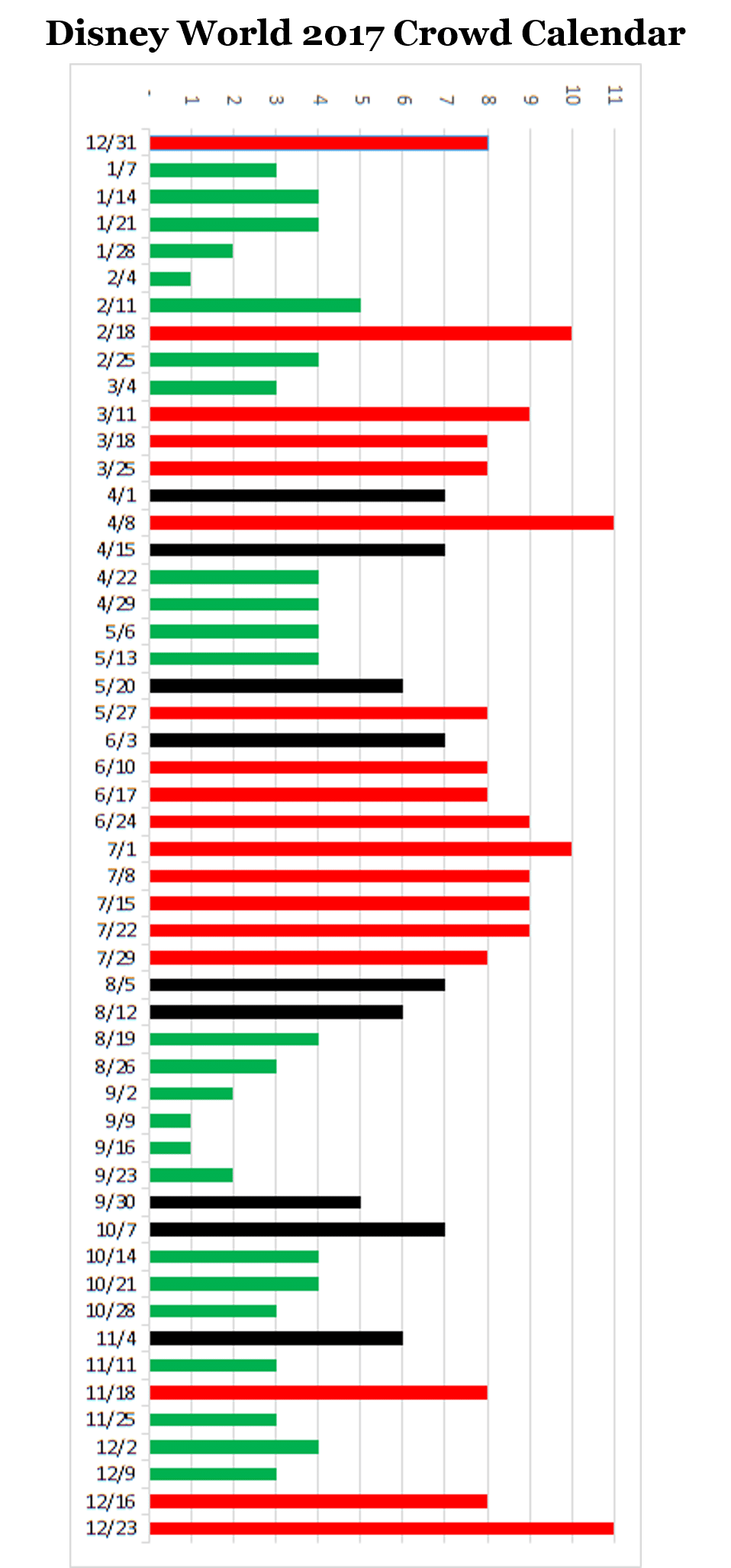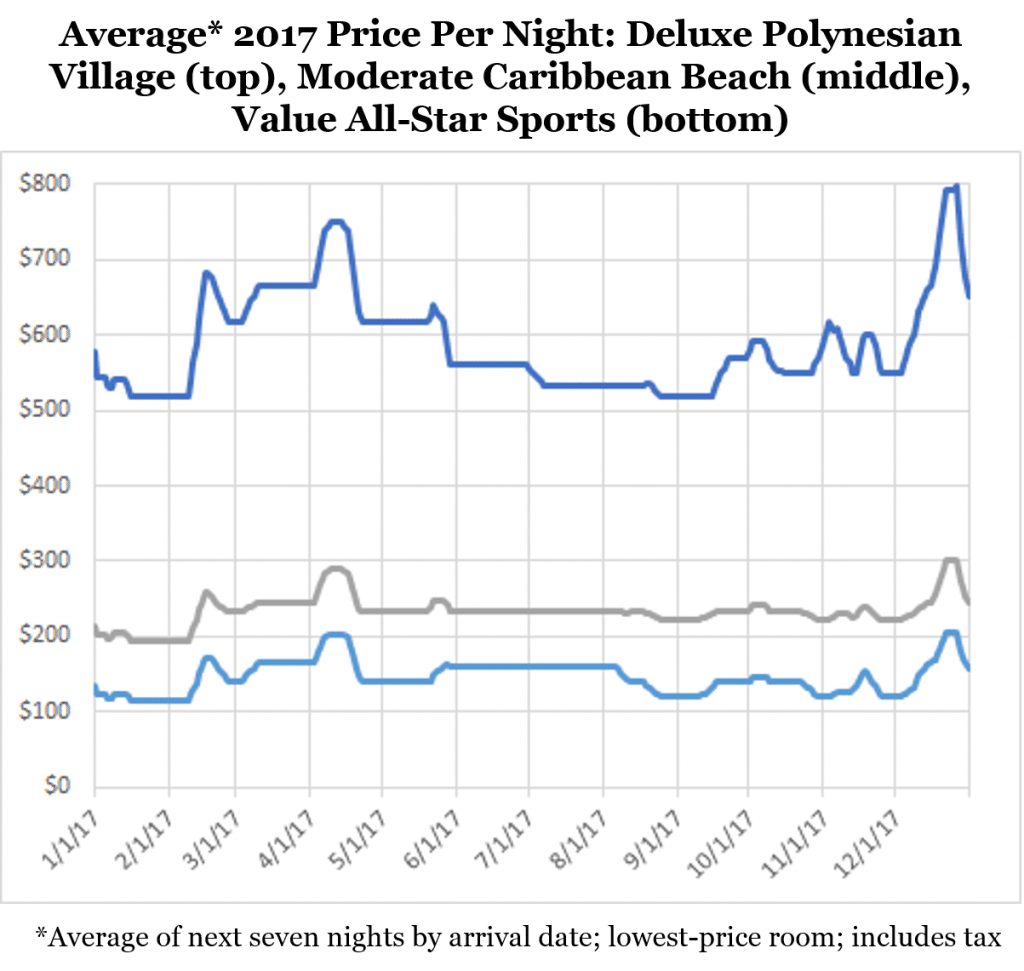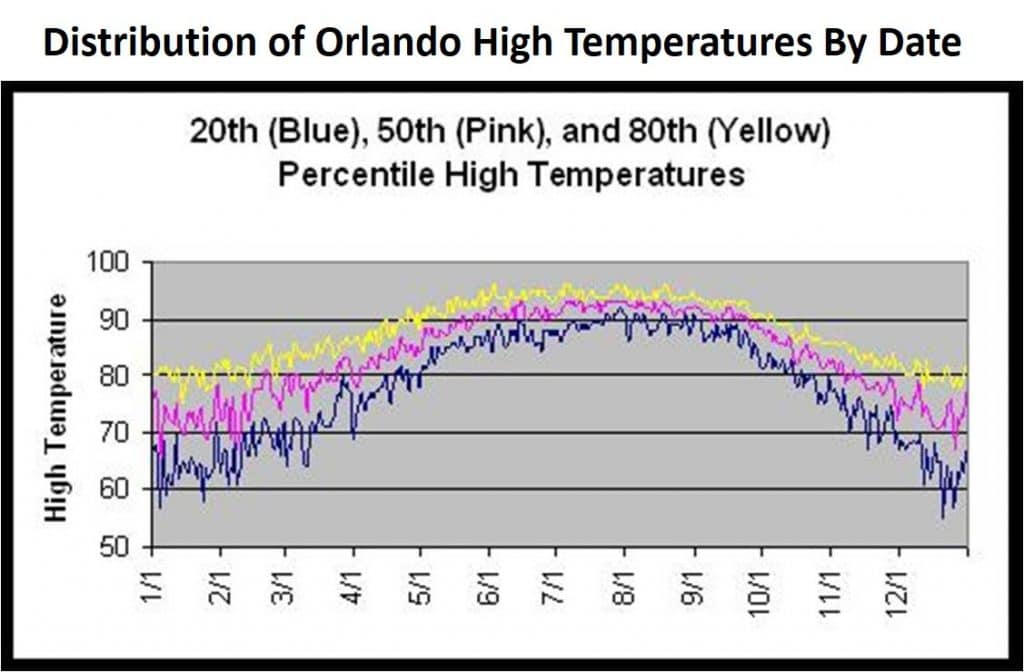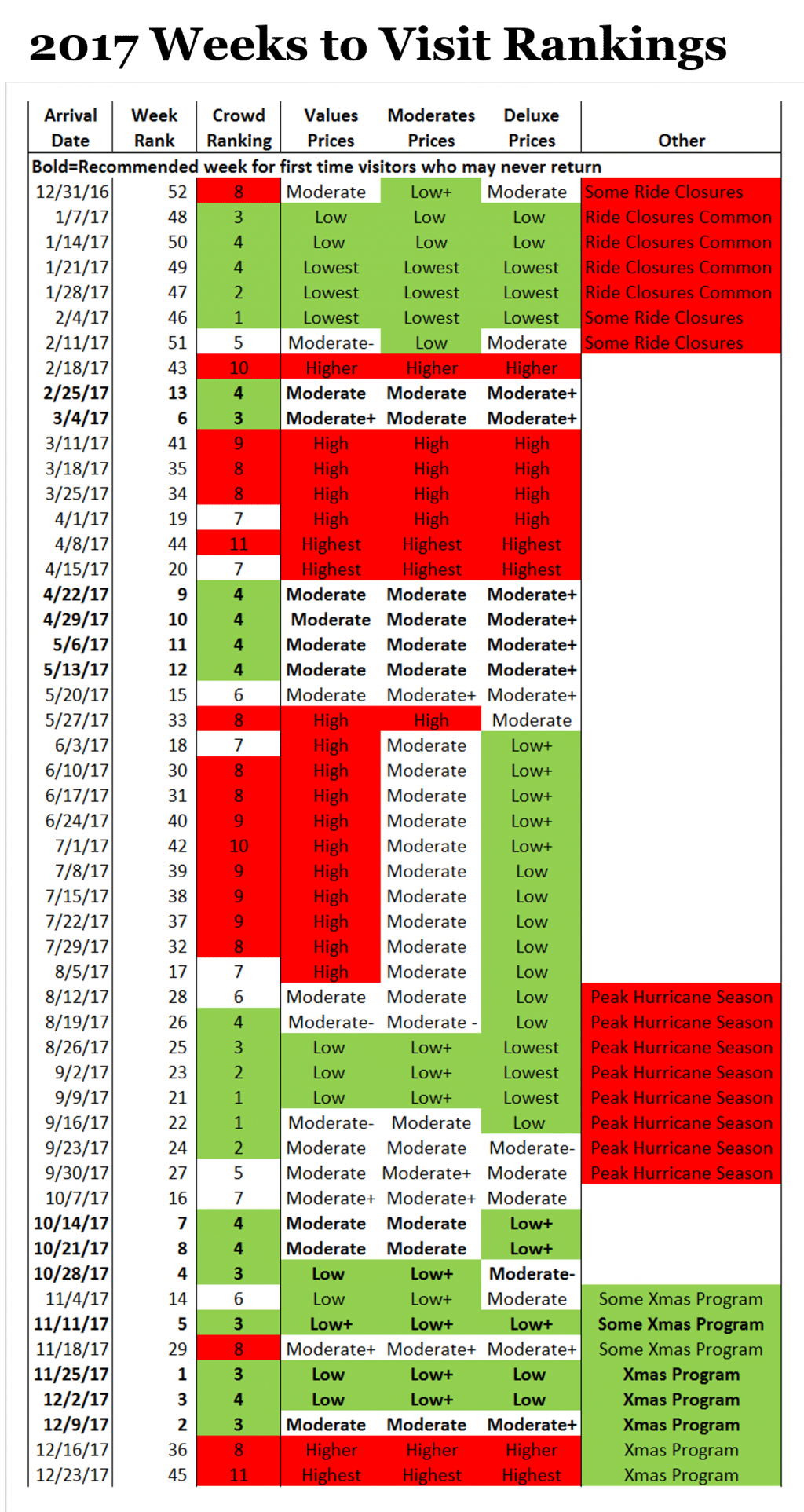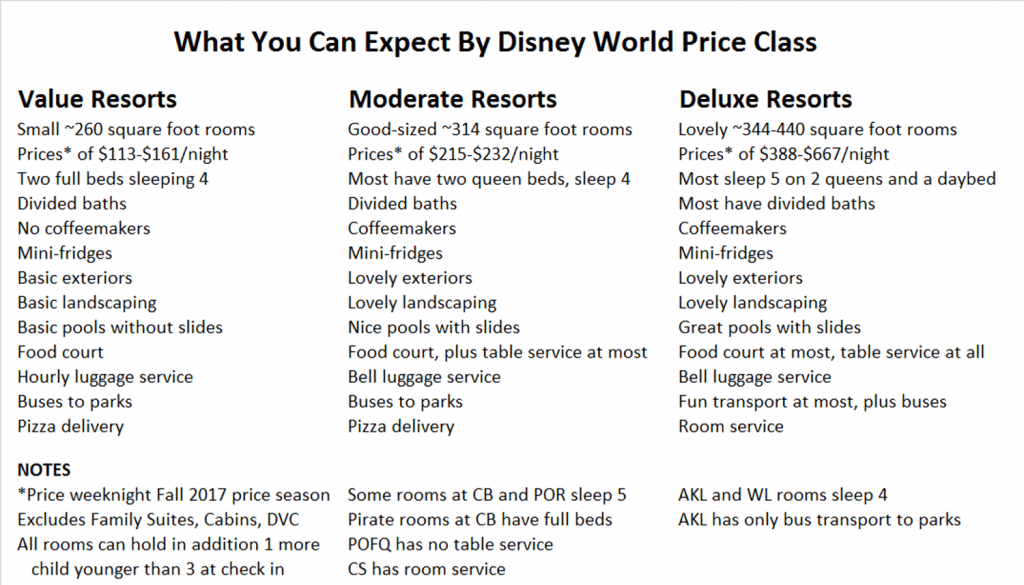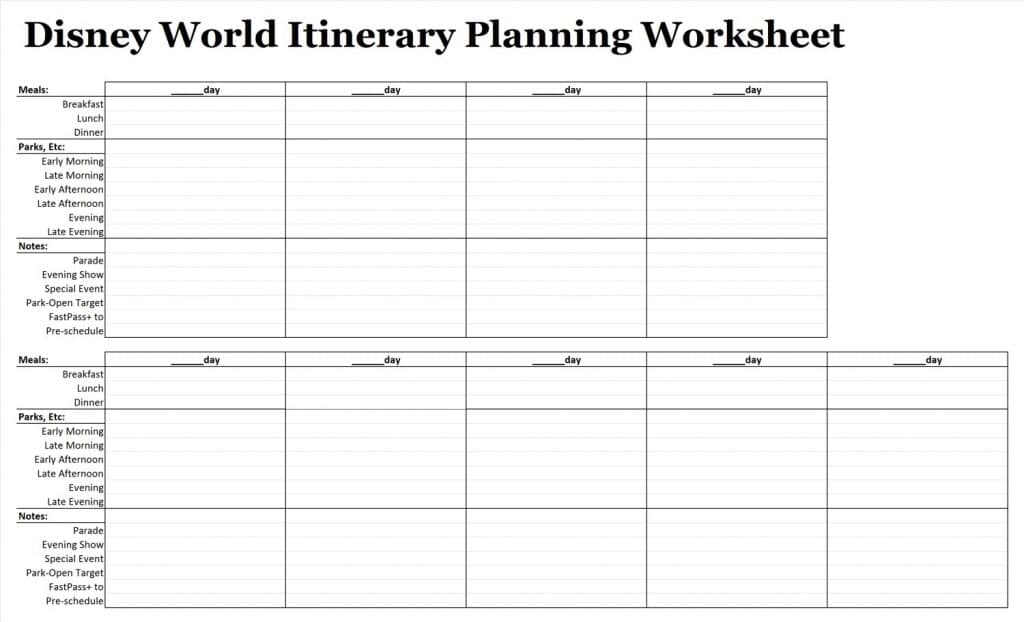 122 Itinerary Planning Worksheet Excel version
122 Itinerary Planning Worksheet PDF version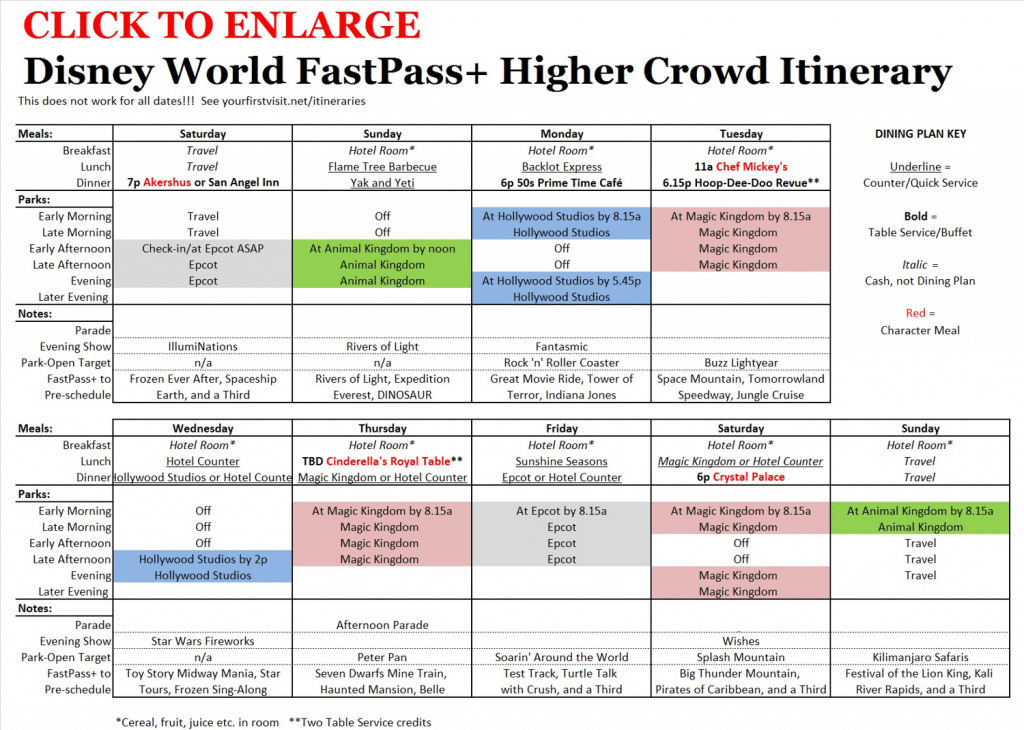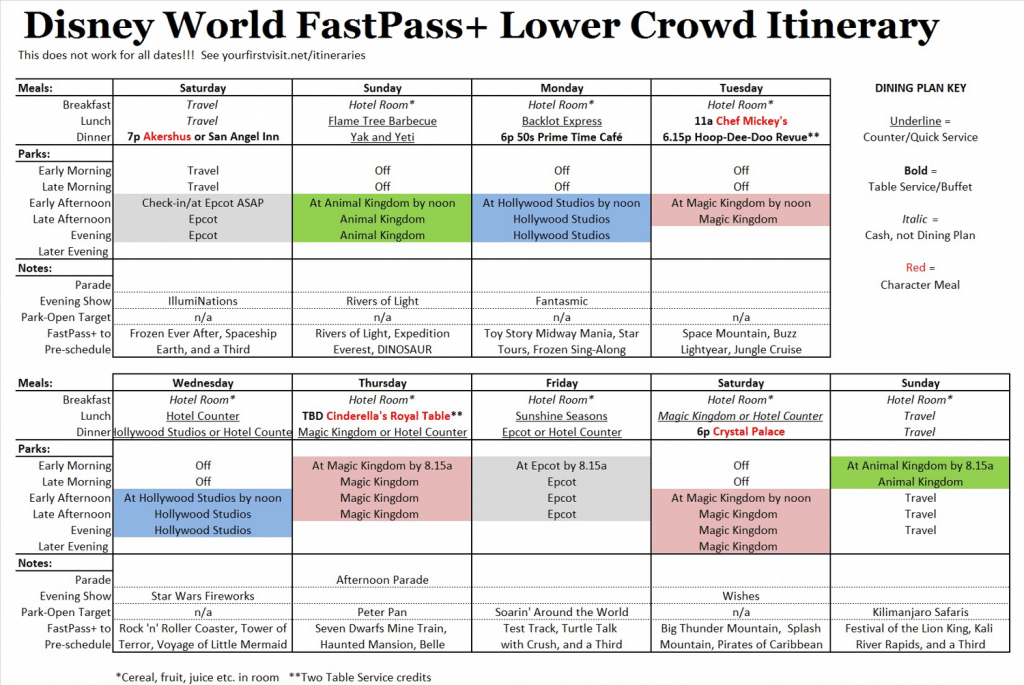 Larger, color versions of all the floor plans would really clutter this page. Here's just one: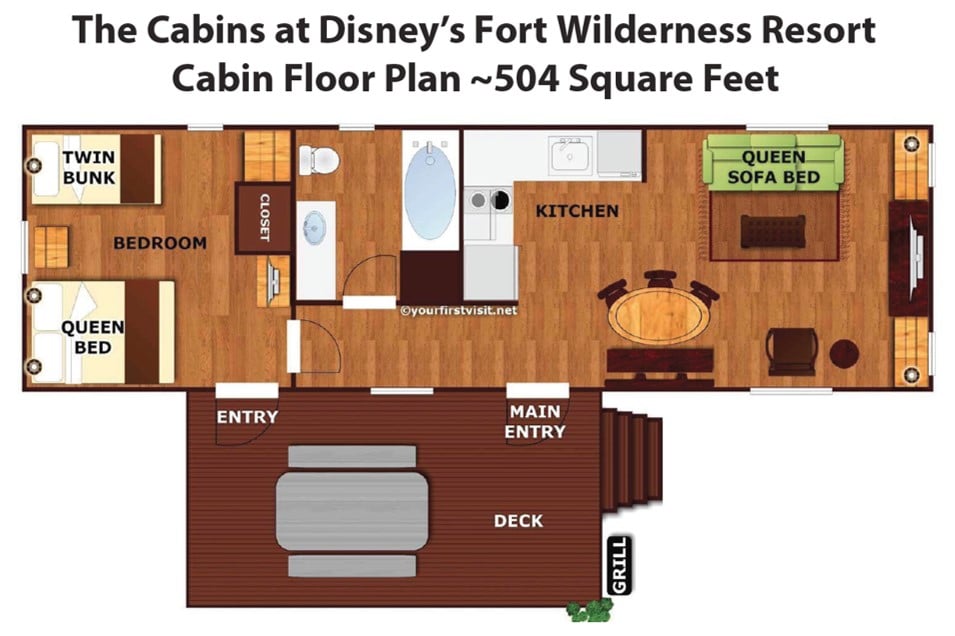 Instead, click to the page listing all of Dave's reviews here, and then on that page click the resort you are interested in, where you'll find a large color version of its floor plan.
PDF VERSIONS OF THE CHEAT SHEETS
PDF versions of the Cheat Sheets:
The forms of these are slightly different than you'll find in Chapter 6, but the ideas and plans are the same.
While most of the year having a good touring plan—such as those in the cheats sheets at the end of Chapter 6—is much more important than picking the best park each day, or avoiding the worst, we can help you with picking your park days. However, Disney World's recent practice of having detailed calendars available only for the next month or so greatly complicates how specific we can be.
As we note on page 120, on average much of the year until late August
Animal Kingdom is typically least busy on Sundays and Fridays. It's busiest on Mondays, Thursdays, and Saturdays, particularly on days with morning Extra Magic Hours.
Epcot is generally least busy on Mondays, Wednesdays, and Fridays. Saturdays are typically busiest with most Tuesdays and Thursdays seeing longer waits than other weekdays.
Mondays, Wednesdays, and Saturdays are usually best for Hollywood Studios. Sundays and Fridays typically see higher attendance.
Magic Kingdom is typically least busy on Tuesdays and Thursdays and busiest on Saturdays and Mondays
Charting these, with green standing for least busy and red busiest, yields these results:

Note that every day has green parks, and most have red parks.
However, you can't use this for every week, as not only are there variations, but unfortunately not all of these variations are in the Disney World calendars yet.
For example, as we write this in April 2017, the Star Wars fireworks show is not on the schedule at Disney's Hollywood Studios after May, and Rivers of Light is not on the schedule at Animal Kingdom after July. Because of this, we can't give exact daily guidance six and a half months ahead the way we used be able to.
THE BEST DAYS IN APRIL 2017
April guidance is here.
THE BEST DAYS MAY THROUGH LATE AUGUST
We believe that the general best and worst park advice will work reasonably well until late August, with a couple of exceptions:
For the week beginning May 20, a very early (3.30p) close at Animal Kingdom on May 24 means that crowds will be higher than most Wednesdays at Hollywood Studios and Magic Kingdom
For a week or so beginning May 27, there will be no good Animal Kingdom days after the official opening of Pandora: World of Avatar
Tuesday July 4 will be quite busy at Magic Kingdom
THE BEST DAYS LATE AUGUST THROUGH OCTOBER
With a couple of exceptions, the period from late August until around December 22 is much more complicated.
This period combines a time when because of the Halloween Party and Christmas Party most weeks the Magic Kingdom closes at 7p three or four nights a week, with the Epcot International Food and Wine Festival from August 31 to November 13.
The effect of the early closes at Magic Kingdom is that the park is mobbed on the nights it does not close—most commonly (but not always) Saturdays, Mondays and Wednesdays. The Food and Wine Festival means that Epcot will be extremely busy on weekends, and in particular on Friday and Saturday evenings.
(Initial Magic Kingdom hours are out through October; problem nights will be any nights not currently showing a 7p close.)
The chart below is for a week when Food and Wine is on and a Magic Kingdom party is showing according to its most common pattern: Sunday, Tuesday, Thursday and Friday.

Note that when the final Rivers of Light and Star Wars schedules for this period come out, even this pattern may change. If, for example, Rivers of Light shows in the fall according to its spring pattern of Sundays, Tuesdays, Thursdays and Saturdays, while the Star Wars show shows every night at Hollywood Studios, then Tuesdays would likely turn into crowded days at Animal Kingdom—as those choosing between Hollywood Studios and Animal Kingdom would be particularly drawn to Animal Kingdom for its extra evening entertainment compared to the days around it.
One distinctive week in this period is the week beginning 10/28. Changes to the Extra Magic Hours pattern Sunday through (at least—the November Calendar is not out yet) Tuesday, and likely no parties the rest of that week after 10/31, will make it have a different crowding pattern than most of this period—we will be able to comment on it more specially after the November hours are out, in later April.
THE BEST DAYS NOVEMBER AND DECEMBER
We will be able to comment on these months after Disney releases its calendars for November and December.
We pride ourselves on writing the best-reviewed, most accurate and most up-to-date Disney World guidebook series ever, and part of keeping it up to date is revising it several times a year.
Our March 2017 update included more than 60 pages of changes. Key changes are below.
CHAPTER 1: HOW TO USE THIS BOOK
Chapter 1 includes three things: guidance on how to use the book, boiling down our recommendations—especially for first timers–by chapter; and "what's new" for returning visitors.
The key changes are in "what's new," and point out
The loss of the evening parade at Magic Kingdom
The new show Happily Ever After, which will replace Wishes in May
The new evening attractions at Animal Kingdom, and the late May opening there of Pandora: World of Avatar
The projected end of the Wilderness Lodge refurb, and the beginnings of major refurbs at Caribbean Beach and Coronado Springs
The ticket price increase of February 2017
CHAPTER 2: WHY AGE AND HEIGHT MATTER and CHAPTER 3: HOW LONG TO STAY
These two chapters saw only minor changes.
In Chapter 2, we added the new rides to open at Pandora: World of Avatar to our summary table about the appropriateness of rides for folk of different ages, and to the ride height restrictions chart table
In Chapter 3, we updated some ticket price material
CHAPTER 4: WHEN TO GO
In Chapter 4 we sharpened up material for which dates are now firm—or more firm–including
The opening of Pandora May 27
The kick-off of the Epcot International Food and Wine Festival in August and its last day of November 13
The possibility that Mickey's Not-So-Scary Halloween Party will begin August 25
CHAPTER 5: WHERE TO STAY
Most of the changes in Chapter 5 were from or about resort refurbs
The opening of the Copper Creek Villas at the Wilderness Lodge in mid-July, and other refurb-related WL items
The already-started demolition, construction, and room refurbs at Coronado Springs
The beginning-in-May replacement of the food, shopping, and bar at Caribbean Beach with temporary facilities while new constructions launches
The refurb at Pop Century that kicked off earlier this month
Minor updates on refurbs at the Dolphin and the Yacht Club
CHAPTER 6: HOW TO SPEND YOUR TIME
Chapter 6 is the heart of the book, and saw 22 pages of changes from us—well, actually, almost entirely from Josh.
Just a few highlights of the updates here include:
Substantial revisions to the Animal Kingdom guide and cheat sheet, especially the touring plans, principally based on the effects of Rivers of Light on priorities and touring. (Our update for Pandora will come out once it is stable, likely in late June; see both of our sites for FastPass+ and touring plan advice well before then.) The new Animal Kingdom material of course includes an all-new review of Rivers of Light
Updates on the changes to the park opening procedures and minor changes to the Epcot touring plans—mostly cleaning up typos
In the Hollywood Studios section, updates on the changes to the park opening procedures and more detailed reviews of the two daytime Star Wars shows, and a revised approach to seeing Fantasmic and the Star Wars fireworks. No significant touring plan changes, other than even more emphasis than we already had to keep refreshing for new FastPass+ opportunities.
Updates on the changes to the park opening procedures and evening offerings at Magic Kingdom, and minor changes to the Character-Centric Touring Plan, Morning Day 2
CHAPTER 7: WHERE TO EAT
Like Chapter 6, Chapter 7 saw dozens of changes
New or completely redone reviews include
Paddlefish
Planet Hollywood Observatory
Las Ventanas
Other changes included
New character breakfast with Rapunzel, Flynn, Ariel and Eric
Shift of the characters at Hollywood & Vine at lunch
New Dining Plan prices
CHAPTER 8: WHICH TICKETS TO BUY AND HOW MUCH TO BUDGET
Disney raised ticket prices in February 2017, so all our pricing material has been revised. One ticket form is gone, a new one has been added, there's now a penalty for not buying in advance, and a new expiration policy is in place—we cover all of these.
CHAPTER 9: HOW TO SET EVERYTHING UP AND GET EVERYTHING DONE
In Chapter 9, we made no substantive changes, but rather only cleaned up some awkward wording (the 90,000 other instances of awkward wording in Chapters 1-8 remain).
Here's the scoop on the November 2016 update:
Title, Introduction and Chapter 1 ("How to Use This Book"): minor changes—mostly typos and infelicities. At our August publication date, we dropped the word "First" from the title for the 2017 edition, added content more helpful to returning visitors, and added a free PDF update model. There's more on these points here and here.
Chapters 2 and 3 ("Why Age and Height Matter" and "How Long to Stay"): just minor changes to reflect ride closures since August.
Chapter 4, "When to Go": one of four core chapters of the book, this one also saw just minor changes that add more precision to reflect additional info that's come out since early August. The basic changes for 2017 are covered here.
Chapter 5, "Where to Stay": another core chapter saw some updates to reflect resort refurb facts and rumors that have come out since August. We also cleaned up one minor floor plan error and one price error. The details of the 2017 changes are here.
Chapter 6, "How to Spend Your Time": the heart of the book, with theme park overviews, itineraries, ride reviews, and touring plans. This section saw the most updates, as there's new attractions, closed attractions, and a result lots of new and updated material. Josh, who writes 99% of this chapter, also fully updated the touring plans, which may be the most valuable part of the book. The scoop on 2017 changes to this chapter is here.
Chapter 7, "Where to Eat": the astonishing transformation of Disney World dining continues, and here in this core chapter we update both the latest good news (e.g. Flying Fish) and bad news (Liberty Tree Tavern). The overview of 2017 changes to where to eat is here.
Chapter 8 and 9 ("Which Tickets to Buy and How Much to Budget" and "How to Get Everything Done") saw minor changes—e.g. a new four day, four park ticket model, and the renewal of the Armed Forces Salute.
KEY CHANGES SINCE THE MARCH UPDATE
The shift of the lunch characters at Hollywood and Vine from Disney Junior to Minnie, Mickey, etc has been delayed until September 4.