Opened: December 6, 2012.
Location:
In New Fantasyland behind Seven Dwarfs Mine Train. Gaston's Tavern is down to the left and Ariel's Grotto and then Storybook Circus are located down to the right.
Extra Magic Hours: Morning, Evening.
Ride Length: Six minutes.
Type: Omnimover.
Similar To: Haunted Mansion and Spaceship Earth – only a lot brighter.
Requirements: None.
Scary Factor: Low.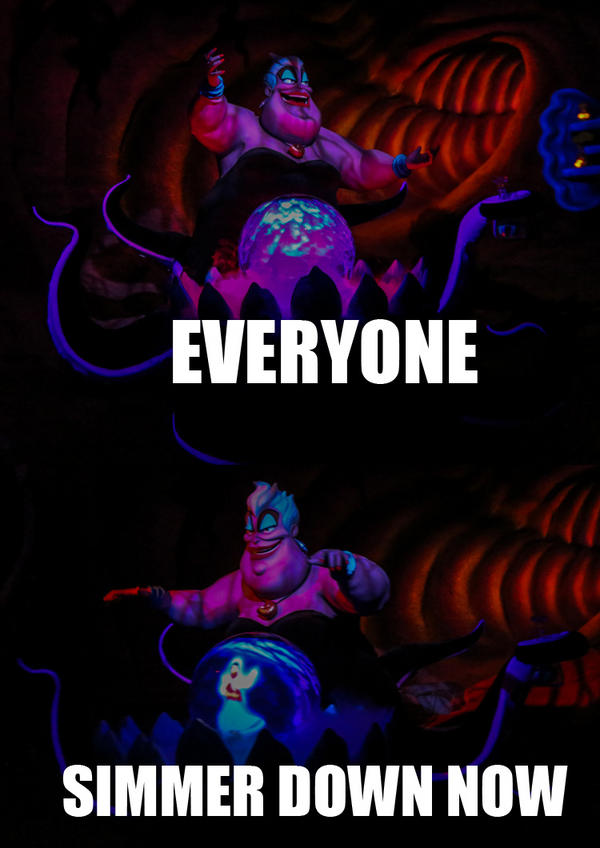 Ursula does make an appearance in animatronic form, but she is not particularly scary and the ride is not at all intense. Some brief portions are dark, but it's unlikely that most kids will be even a little bit startled.
What to Expect:
The queue is arguably the best part of the attraction, featuring beautiful rockwork, waterfalls, palm trees, sand, and more.
There is an interactive element here with an animated crab interacting with guests waiting in line, but it's kind of confusing and most people ignore it.
Guests board clamobile-style ride vehicles that seat two to three across a single row. The vehicles are almost exactly like those found at Haunted Mansion or The Seas with Nemo and Friends.
Riders are then taken on a journey through a variety of scenes that briefly recount the story of The Little Mermaid.
Where to Sit: Each ride vehicle seats two adults comfortably in a single row. A third person, and particularly a child, may fit.
FastPass+: Yes, low priority. With the high capacity, there is plentiful availability and standby waits are shorter than most FastPass+ enabled attractions.
What You Miss Using FastPass+: Most of the queue. Waits for the Little Mermaid ride are typically short enough that experiencing it in standby is easy. The queue is pretty and helps set the tone for the ride. Most people will want to see it, though you may elect to use FastPass+ to re-ride the attraction if you enjoyed it.
Total Average Experience Time with FastPass+: 13 minutes.
4th FastPass+ Availability:
Expect to Wait:
When to Go: Before 11am, in the final two hours of operation, or with FastPass+.
Rating: 6/10.
Commentary: Most people consider Journey of the Little Mermaid to be a miss – there is not a lot of nuance here and Disney is ultimately unsuccessful at consolidating a 90 minute movie into a six-minute ride. But it's still new-ish and worth experiencing, particularly with the relatively low standby waits due to its high capacity and the ease of booking it as a 4th or 5th FastPass+ option later in the day. I'm not sure you'll love it, but it's certainly worth doing.