Continuing from Part 1, where we took a look at Enchanted Forest and Belle's Village, we'll move on to the Little Mermaid stuff.
Under the Sea Journey of the Little Mermaid is the only new ride opening at the moment.  The Mine Train is still slated for early 2014, though I would expect to see it open near the end of 2013.
As you've probably heard, it's virtually a carbon copy of the attraction at Disney's California Adventure.
The difference is the queue, which is beautiful at Magic Kingdom.
If I recall correctly, the building in California looks like an opera house or something.
My estimation is that it will look even better at night.
The level of detail is outstanding.  Remember, this is brand new!
Though some aspects are an obvious ripoff of Spongebob Squarepants.
Just look at the water fountains.
The queue is slightly interactive with Scuttle's Scavenger Hunt.
You may be able to see the projection of the blue crab on top of the book in the lower half of the cabinet.
Or in the jug on the left.
Otherwise, what you see is really neat.  And I don't throw around the word "really."
My only concern is that there seemed to be gaps in the rockwork where water could stream in when it's raining.  Not much use in making an outdoor, covered queue with holes in it.  In Florida.  Oh, and one other concern.  I'm not sure if it's air-conditioned or the air-conditioning wasn't operational.  It was just as warm in the queue as it was outside, if not warmer, and that's not a good sign.
Scuttle narrates the story and you'll see him in animatronic form in the queue before heading inside.
This is where things get even cooler:
The background story is written and animated on the ceiling.  The downside is that it's hard to read because it's so dark and the words are small.

Now we're headed through a couple of switchbacks before boarding our clamshell.
The ride is basically The Seas with Nemo and Friends with Little Mermaid animatronics.
Here's a few pictures to give you an idea about what to expect, but I wouldn't watch any videos to spoil the attraction.
The animatronics are very well done.
And there are a ton of them.
It's a traditional dark ride.  Unlike something like Haunted Mansion, I'm not sure there's a ton of re-rideability (if that's a word).  I wish the vehicles would go up and down hills or something to make it a little more interesting.  That's one reason why Haunted Mansion and Spaceship Earth are so neat I think.  It feels like you're traveling somewhere, even if you're on a similar conveyor belt.  Journey of the Little Mermaid basically feels like you're riding past one animated set piece after the next.
There didn't seem to be a ton of hidden or hard to see things either.
So once you've seen it, you've seen it.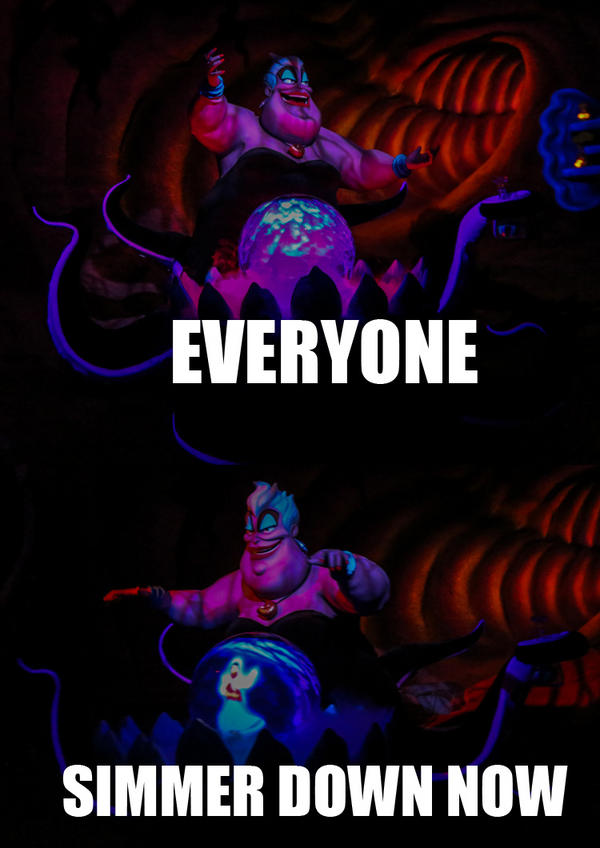 It's absolutely worth experiencing though.  And you'll probably want to ride twice.
I feel the same way whenever I've run out of scotch.
Happy ending.
I know I told you not to watch any ride videos, but I shot the last two minutes in case you're worried that it'll scare the kids.  I don't think it will scare anyone – but the Ursula section here is as bad as it gets.  It's nowhere near as scary as the Ursula scene over at Voyage of the Little Mermaid at Hollywood Studios.
Overall, Under the Sea Journey of the Little Mermaid is a solid family-friendly dark ride.  I don't think it's as revolutionary as it could have been.  Not to mention it's the same as what's in California once you board your shell.  But the queue is beautiful and it's certainly a step in the right direction thematically.  I enjoyed it quite a bit, but it's no Harry Potter 2.0.

It's so neat on the outside though.  I love the waterfalls on the left and how aged the buildings look.
Rough waters, captain!
Over in California, Mermaid usually has 10 to 15 minute posted waits.  Posted wait times seem to be exaggerated here in Florida at the moment.  The first time I got in line at 12:58pm, the posted wait was 30 minutes.  It took 17.  The second time around when I got in line at 3:17pm, it took 22 minutes with the 45 minute posted wait.  Unfortunately(?), the ride now offers FASTPASS, which are available at Mickey's PhilharMagic.  That's going to slow down the standby queue.  Moving forward, Journey of the Little Mermaid is not going to be an essential rope drop activity.  It will certainly be more popular over the next 12 months, like any new attraction, but it's going to be easy to FASTPASS in the afternoon.  If you're headed all the way back here to Enchanted Tales with Belle, I'd probably do Ariel's Grotto next and then Little Mermaid after that unless you're planning to come back here to look around later in the afternoon.  It's about as far away from the main entrance as possible.
At the end of this area, you'll see Ariel's Grotto on the left.
This is a pretty standard Meet and Greet.  You get in line, circle back around, and then visit Ariel.
Luckily, there are two Ariels in operation.  One to the left and one to the right.
On the plus side, they only let one group at a time into the grotto, so the interaction is among the most intimate available.  Ordinarily, there would be 100+ people looking on.  And while they probably don't care what you're up to, it's not quite as personal.  So that's a nice bonus, even if it doesn't stack up well against Enchanted Tales with Belle, which I think is the new gold standard in character interaction.
Posted waits have been 10 to 20 minutes, but I would expect them to go up as more people realize it's over here.
You may recall that waits for Ariel in Adventureland were horrendous, outdoors, hot, and uncomfortable.  However, there was only one of her over there and it was one of the most obvious Meets.  With Ariel moving to the Grotto, she no longer appears in Adventureland and Prince Eric no longer greets at all.
In the morning, you could feasibly do:
FASTPASS Peter Pan's Flight on the walk to Enchanted Tales with Belle
Enchanted Tales with Belle
Ariel's Grotto
Journey of the Little Mermaid
Many Adventures of Winnie the Pooh
Peter Pan's Flight with FASTPASS.
But we'll have to see what wait times look like moving forward.  As I mentioned previously, my estimation is that Enchanted Tales is going to get backed up quickly.  But the problem is that it takes a solid 15 to 20 minutes to complete, which is a sizable chunk of time in the morning, which is the best time to do virtually any of the major rides and characters.  But if wait times are going to be 40 to 60 minutes all day from 9:30am onward, visiting first thing may be necessary to avoid the uncomfortable waits later in the morning.
So that's a pretty good look at what's just opened in New Fantasyland.  Obviously we'll be back and I'll keep a close eye on wait times at Belle and Mermaid.