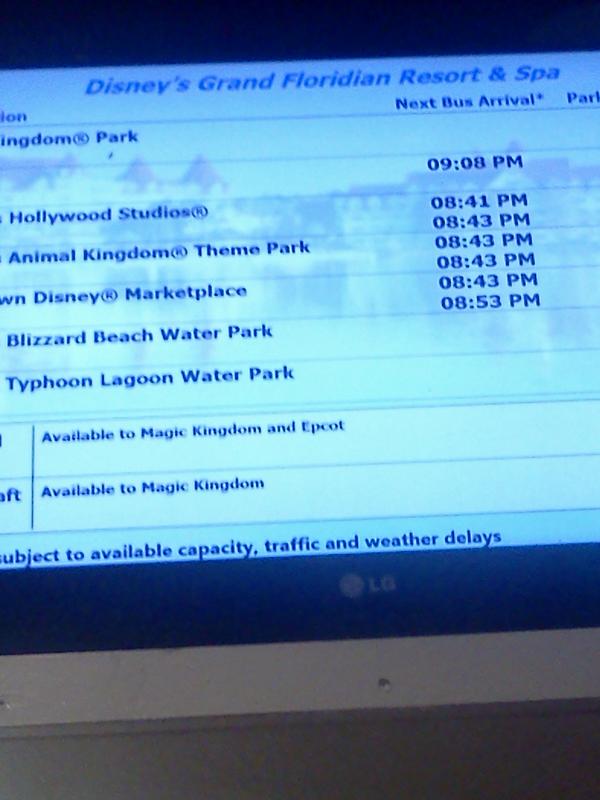 Off topic, but I caught this display at the Grand Floridian Resort's bus stop this evening.  It shows the expected arrival time of the buses.  Hopefully this will roll out to the other resorts and theme parks soon.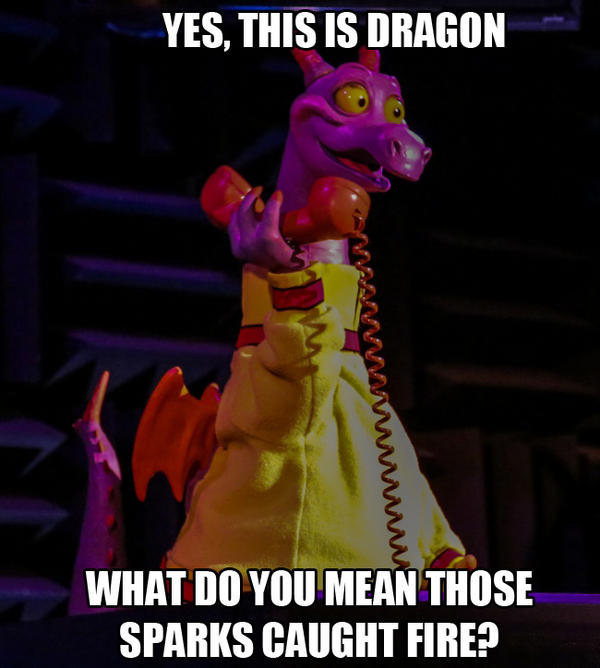 Pictured unrelated.
Continuing from Part 1 and Part 2, we'll continue our walk around World Showcase to check out the Food & Wine Festival booths.
Continuing to the United States Pavilion, we're just passing through Italy.
Last year during the Festival, Fife & Drum Tavern debuted a Jim Beam Red Stag Lemonade that ended up sticking around for the rest of the year.
The previous iteration was served in a small cup.  That's basically bourbon resting at the bottom.  The drink was quite strong, and at $6.50, a real bargain.
With the price increases this past August, the Lemonade went up $2.00 to $8.50.  For this year's Festival, a Honey Tea Lemonade is added.
This year's Honey Tea, which is conspicuously red, is a much larger portion.  The previous Lemonade was so strong that it wouldn't surprise me at all if they received complaints about it.  It didn't quite taste like something I'd make (strong), but it was close.  There's probably a similar amount of bourbon in the new version, but it's much less offensive if you don't care for bourbon.  In fact, there's only a slight bourbon taste, which is helped by the sweetness in the Honey Tea itself.  I highly recommend it as it's quite refreshing and will cool you down 9.6 degrees.
Saluting America.
Hops and Barley
Hops and Barley has moved further into the Pavilion.
You'll actually find it on your left right before the walk over to Japan.
Better known as the Sam Adams booth, they also sell Linda Bean products.  Yes, Ms. Bean is an heiress to the LL Bean fortune and markets a variety of frozen lobster products, in addition to restaurants, cafes, and a food truck.
Last year's Claw and Roll from the First Bites Event.  If you're thinking the $7.50 Roll sounds expensive, Linda will sell you your own lobster meat for $40 – $50/pound depending on how much you want to buy.  The Lobster Roll is very good and an obvious choice for a snack credit, as it's the most expensive item you'll likely come across (until next year when it's $8).  The roll is nicely buttered/toasted and it's full of nicely seasoned lobster.  No filler.
I found the claw awkward to eat and wrestled around with it a bit.  I'm not sure if they make it easier on you this year.  The clam chowder is likely the previously-frozen version that Linda would sell you on her website.
I don't care who you are, what you like, or what your budget is, but you have to order one of the $1.50 Pumpkin Mousses.  Unless you're deathly allergic or something – I don't want another lawsuit!  Anyway, I can virtually guarantee this is the best $1.50 you're going to spend on your Disney World vacation.  This thing is delectable and a real bargain.  The price is probably kept artificially low because Ocean Spray is such a large sponsor.  It'd probably be $45 otherwise.
Most of the Sam Adams brews are easy to find in grocery stores, Boston Lager being the most ubiquitous.  You can usually find it on sale for around $12.99/12-pack.  Despite being common, this 4.9% ABV Vienna Lager is very good and one of the best "macro" microbrews you'll come across.  It's slightly bitter with citrus notes.  Clean and refreshing, it's a great choice if you don't mind the fact that it's so prevalent.  If you're decidedly a Bud Light guy/gal, this would be a good choice if you're looking to expand your horizons a bit.
Not sure why they went "seasonal" on the signage, considering there's little doubt that it's the Octoberfest.  This is a 5.3% marzen, similar to the Altenmunster we saw over at the Brewer's Collection.  This is another common beer this time of year, though it's certainly worth trying.  Expect a sweet malty flavor that's easy to drink.  Along with the Boston Lager, this is included in the Flight that will save you a couple of dollars over purchasing four 6-ounce beers individually.
The 5.3% ABV Cherry Wheat is admittedly not a personal favorite as I'm not crazy about fruit flavors in my precious beer.  This reminds me more of a cough syrup than anything, with an artificial tasting candy cherry flavor.  If you like this style, then the Cherry Wheat is a decent choice.  Just be aware that the cherry flavor is strong and lingers.  If I were going to order it, it'd be the last one I drank.
The Chocolate Bock is the rarest of the Sam Adams brews offered.  I think the fact that it's the "17th Anniversary Festival Beer" is only because it isn't normally offered on tap.  You may remember Sam Adams tried to pull a similar stunt last year, when they supposedly offered the "Brick Red Ale only at Epcot and bars in Boston."  As it turns out, it was merely Sam Adams Irish Red on tap. Nothing special.  As the name implies, this 5.8% ABV bock tastes of chocolate, toffee, and cocoa.  Mouthfeel is lighter than you might expect.  If you're wondering "how chocolate-y" this is, the answer is that it isn't like drinking Hershey's syrup.  You're going to taste chocolate, but the carbonation, hops, and alcohol from the beer are still going to be present.  Because this one is a little rarer (I got it as part of a holiday-time variety pack), I'd add it to your list.  Because it's darker, you'll probably want to drink it after the others if you're ordering the Flight or some of the other lighter options.
Pretend this one says Sam Adams Light instead of the Whitewater IPA.  You get what you pay for.  Sam Adams Light is a 4% ABV light lager.  It's significantly more flavorful than your run-of-the-mill macro light beer like Coors/Miller/Bud Light, but it's going to pale in comparison to the Bock, Octoberfest, and others.  If you're looking for the lightest, most refreshing option, this is it.  Sam Adams Light also isn't as common as one might expect.  You'll see it far less often than Boston Lager, the Seasonal, or the Seasonal Variety Pack.
Samesies on the Cream Stout.  Pictured is the Boston Ale, which was last year's "Festival Beer."  The Cream Stout is a 4.9% ABV sweet stout that should taste of bittersweet chocolate and light cream.  Considering how dark it is, it's surprisingly light on the palette.  Highly recommended, though most specialty stores should carry six-packs for $7 – $9 and this is one that's served by the bottle, so it's exactly the same as you'd purchase in store.  But the Cream Stout is not one of the more common Sam Adams brews.
I probably should have prefaced these "reviews" with the fact that high alcohol-by-volume IPAs are my favorite variety of beer.  Coming in at 6%, Sam Adams' Latitude 48 is pretty good, though it's a bit on the watery side.  You should taste citrus, pine and a fair amount of bitterness that lingers long after the first sip.  Since it's only sold by the bottle, I'd be more likely to pick up a six-pack at the store, but it's not a bad choice if you're looking for a $6 beer.
As far as I'm concerned, this tastes like carbonated apple juice with no hint of alcohol.  It's sweet and watery, but not overwhelmingly so.  If someone in your group doesn't like beer and doesn't want to pick up one of the Jim Beam Lemonades, this would be a good choice.  It's crisp and refreshing and shouldn't be offensive to anyone that likes apple juice.
I am decidedly not a $6 beer guy, but I'd be looking at the Chocolate Bock and Cream Stout if I were you.  As I mentioned in Part 2, most of my time would be spent at the Brewer's Collection, where I can sample beers that I wouldn't ordinarily be able to find.  We're also going to come across some rarer Florida beers shortly.
Florida Local
Florida Local is a new booth this year.  It's nicely themed.
Disney seems willing to put just about anything with the word Florida on it on the menu.
The Florida Shrimp Ceviche with Fire Roasted Vegetables, Fried Plantains, and Cilantro.  I feel like the name is longer than what you get.
Flattened for your viewing pleasure.  I enjoyed these quite a bit, though I'm not sure where the "Fire Roasted Vegetables" they speak of are.  This consists of six shrimp in a spicy ceviche sauce.  You can use the plantain to soak up some of the excess sauce or eat it on its own.  At $4.25, this is a decent value compared to other options.
You never really know what to expect from this Food and Wine business.  This is the White Corn Arepa with Mangalista Pork Rillette and Zellwood Sweet Corn Salad.  I recognize the words "Pork" and "Corn" and "Salad" but that's about it.
I enjoyed this one quite a bit too.  We'll get to the pork momentarily, but the corn had a nice crunch to it and was tangier than expected.  I could have eaten a tub.
81.4% eaten for your viewing pleasure.  Sorry it isn't a DISboards.com buffet plate, but the website has limited resources.  I enjoyed this one as well.  What I would imagine is the arepa is a nice crispy container for the pork.  As far as I can remember, this wasn't nearly as spicy as the ceviche and the pork was actually on the bland side.  The corn had more flavor.  At $4, this is still a decent value compared to your other options.  I think that you'll be pleased with just about everything you purchase from the Festival booths, even if everything is more expensive than you'd like to pay.  There's a ton of thought and even more ingredients that go into these things.  Florida Local is a success as far as I'm concerned, though they could season the pork better.
After finding out last year's Florida Beer Key West Sunset Ale tasted mostly of metal, I was not particularly excited for this year's offering.  But this 5.1% witbier is actually pretty good.  The Southernmost Wheat is certainly not a world class Belgian-style ale, but as far as wheat beers are concerned, this one is pretty accessible.  The advertised key lime is more noticeable through the nose than on the palette.  Expect to taste a hint of lime along with citrus, coriander, and yeast.  I'd recommend this if you like Belgian-style beers because it's refreshingly light, but also because it's going to be difficult to find outside of Florida.  My local Publix sells 6-packs for $8.99, but that's in Florida.
I have not had an opportunity to try the Florida Lager, which is a 5.1% Vienna lager similar to the Boston Lager over at Hops & Barley.  I'd expect it to be a pretty decent lager.  I recommend both because they're going to be difficult to find elsewhere.
Japan
The Japan booth is located in the same place as last year across from the Japan Pavilion.
The Spicy Hand Roll, Karaage Hand Roll, Sukiyaki Beef Pan, and Sake drinks are all new.
Lesly was nice enough to send in this picture of the Karaage Hand Roll.  I would really appreciate it if you would take a picture of whatever you try at Food & Wine and email it to me at josh@easywdw.com along with a short (or long) review.  Lesly had this to say: "Excellent.  The best of Food and Wine for me.  Not much of a sushi lover but the spicy mayonnaise made the dish.  I mean, who would have thought "Hey! You know what would make this roll even better? Mayonnaise! And let's make it spicy!".  Certainly not this girl but I'm glad they did, otherwise it would have been plain old fried chicken and white rice."
And one from Tanya (THANKS!) of the Sukiyaki Beef Pan.  Tanya says, "I thought this was really good.  The meat was very good, not stringy at all.  The flavor was not very powerful, it was good but not super strong.  But the sauce wasn't very thick it was more on the watery side, so I guess that's why.  It's a large portion, so that was nice."
And you know what I'm good for.  Kirin Ichiban is a 5% American Pale Lager brewed by Kirin Brewery Company, Limited in Japan.  It is one of my least favorite beers offered at the Festival.  Not that it's bad necessarily, but there isn't a lot of flavor and it's widely available at supermarkets across the country.  Expect to taste a lot of grain and malt.  If you're looking for a Budweiser from Japan, this is it, but it's not something I would personally choose to purchase at the $8 price point.
This is the Green Tea version of the Sake Mist from the Sake Bar across from Mitsukoshi Department Store further inside the Pavilion.  At the time I said, "It wasn't as overwhelmingly sweet/sugar-y as the Moroccan frozen drinks.  The taste is a lot more subtle to the point where you want to keep drinking it to get just a little bit more flavor.  As opposed to the drinks in Morocco where you want to drink more just to get it over with.  I bet the Strawberry version would be even better.  Recommended."  And you can see that the Strawberry is on the Food & Wine menu.
Bathrooms, Places to Sit, Better Alternatives, Notes in This Area
This area of World Showcase has an unfortunate dearth of bathrooms, especially because of the popularity of the Eat to the Beat concerts in the United States Pavilion and the lack of bathroom stalls at Liberty Inn.  I recommend trekking up here to the bathrooms in the outdoor seating area of Katsura Grill in Japan if you can't wait until Morocco.  They're out of the way enough that virtually nobody from the promenade is going to know they're up here.  This is also a good spot to enjoy your Food & Wine haul, especially during non-peak meal times.
The United States Pavilion is actually one of the easiest places to find a table, thanks to the seating area outside Liberty Inn.  There's also a ton of ledges to sit on or put something down on, not to mention the benches in the American Gardens Theater.  You shouldn't have any problem finding a place to set down that Sam Adams flight.
As far as better drinks are concerned, the United States offers the same Bud and Sam Adams.  The Sake bar across from the entrance to Teppan Edo/Tokyo Dining does offer a wider selection.
You may want to consider that.  I don't care much for the food at Katsura Grill.  The sushi is the same mass produced stuff that's available all over property, including most resorts' quick services.
I was impressed by the Florida Local booth.  $8.25 is more than I wanted to spend on the two items, but that's par for the course at the Festival.  The Florida beers are recommended since they're going to be hard to find outside of Florida.  If you're on vacation, a $6 Sam Adams may just be the thing you're looking for, but I'd save the money and buy a six-pack from the local grocery store when you get home.
We'll continue with the Singapore, Morocco, and New Zealand booths.