As I'm sure you've heard, Enchanted Forest began "dress rehearsals" on Friday, October 12th.
The entire area is open to guests.
That includes Enchanted Tales with Belle, the interactive meet inside Maurice's Cottage.
Be Our Guest Restaurant is not serving food.  On Friday, the restaurant was closed, but on Saturday they were giving tours for the first few hours. We'll see if that continues.
Gaston's Tavern serves Roasted Pork Shanks, LeFou's Brew, Warm Cinnamon Rolls, and Veggies.
Outside, Gaston conducts meet and greets.
He may also greet for a short time out to the right of his Tavern as pictured here as he heads backstage.
Bonjour Gifts offers limited edition flatware, shirts, goblets, and other items.
In the back sits nicely themed bathrooms.
You may recognize Maurice's Amazing Popping Machine.
With standard menu.
Further down is the only operating ride in the area.
Under the Sea Journey of the Little Mermaid.
And then at the end of the area, you'll arrive at Ariel's Grotto, where you can meet the finned version.
With construction on the Mine Train continuing for at least another year, there's no way to walk from the Little Mermaid section over to Storybook Circus.  You have to exit and walk around.
So the magic question is of course, when and for how long will the soft openings continue to occur?
From October 13 – 19, the area should be open through Park close.
Beginning October 20th and continuing through November 2nd, with the exception of October 27th, Cast Members previews will be conducted.  It's unclear whether non-cast-guests will be admitted into the area at some point during the day.  On November 3, 4, 5, 10, and 11, Annual Passholder, DVC, and/or D23 previews will be conducted and it's unlikely unregistered guests will be able to visit the new areas at all on those dates.  On other November dates, I'm expecting the 10am – 6pm schedule and it may be extended by opening with the rest of the Park at 9am.  Beginning November 19th, "Previews" begin.  Barring any significant hindrances, the area should be open in its entirety from open through close.  And then on December 6th, Enchanted Forest is officially open for business.
It does look like there may be something there that wasn't there before.  The current Enchanted Forest entrance is through the shrubs to the right of Pinocchio Village Haus.  There will be an opening in the shrub wall for guests to easily enter and exit.
Once you enter, you'll see Maurice's Cottage in front of you.  Down to the left is the entrance to the Meet.  Be Our Guest is up on the right and Belle's Village and the Mermaid stuff is down to the right.
Belle's Village is only a minute walk from Be Our Guest and then Journey of the Little Mermaid is a minute or two to the right.
And then down to your right, you'll come across the entrance to Journey of the Little Mermaid and then further down on your left is Ariel's Grotto.
Now that we know the lay of the land, we can take a closer look at what's offered.  We took a good look at Enchanted Tales with Belle last month about half way down this post, so I won't rehash the whole thing.
The attraction is mostly the same as it was last month.  You first queue up outside the Cottage.
And then you wait inside.
Then you'll enter the room where you'll be transported to the Castle on the day Belle and Beast fell in love.
It's fun to look around in here at some of Maurice's inventions.
And of course, the mirror sequence is tres cool.
Then it's Cardboard Cutout Play time.  I am going to go out on a limb here and say that given the proper circumstances, the Play is darling.  On my last visit, the cast member chose a Beast that was too shy to play along, causing the entire thing to be rather uncomfortable.  This time, the boy chosen played along perfectly and the entire thing was adorable.  That said, it's still a character interaction that may not interest everyone.  I think that's okay.  If you have a child that would like to participate in the Play or you'd like to take a look around the Cottage, this is a must do.  No question about it.  With the high variability in who's chosen to play the parts, not every show is going to be perfect.  But I'm more optimistic now than last time.  The boy playing Beast was absolutely smitten while dancing with Belle and I'm sure the memories will last a lifetime.  And that's really what we're up to here.
And the Lumiere animatronic in the next room is fantastic.  As you can see, even his base raises off the ground.
His face is a projection, but Lumiere himself is something you could physically hold in your hands.  Assuming you had Gaston-strength I would guess.
As far as wait times are concerned, they've been in the 20 to 50 minute range over the last two days.  There are two Libraries, so wait times are theoretically half of what they would be with only one.  It's a little early to say that this is going to be your highest priority come November 19th.  The wait outside is going to be extremely uncomfortable in the heat with no air-conditioning or fans.  Back in September, everyone was too hot, and we're not even talking July heat and humidity.  I think we may be looking at:
FASTPASS Peter Pan's Flight on the walk to Enchanted Tales
Enchanted Tales with Belle
Under the Sea Journey of the Little Mermaid
Many Adventures of Winnie the Pooh
Peter Pan's Flight with FASTPASS
as the best way to attack the morning.  But we'll have to see what wait times look like moving forward at both new attractions.  My feeling is that with the limited capacity at Belle and novelty of Mermaid, that they're going to be high priorities moving forward.  If you're skipping Enchanted Tales, Journey of the Little Mermaid should be a lower priority with its monster capacity and what should be plenty of FASTPASS opportunities.  Mermaid FASTPASSes are being distributed at Mickey's PhilharMagic alongside Winnie the Pooh.
I have not been inside Be Our Guest Restaurant, but from what I've seen, it lives up to the high expectations.  I will try to get over there soon, but I have a zillion pictures to put up as it is.
I've been making fun of Beast's Castle since the children's playhouse was placed up on the mountain.  But the forced perspective works well.
Obviously your eyes don't zoom in like a camera lens, but the six inch tall trees help the scale a lot.
Once water starts flowing properly, this area is going to be even more stunning.
40 seconds of the bird calls in the Forest outside of the exit to Enchanted Tales.
Gaston's Tavern is Disney's answer to Butterbeer and Three Broomsticks over at Universal.
A tribute to Gaston and LeFou, but entirely Gaston, sits out front.
Inside, the Tavern is small, though there are numerous registers.
Lines spilled outside all afternoon.  Even so, waits should be pretty short.  There's only room for a few people to be in each of the lines and nothing offered is difficult to prepare.  My guess is the size is intentional as it looks like demand is high and people are more likely to join in line.
Unexpectedly(?), the Tavern offers a Roasted Pork Shank, which fits in perfectly with the antler theme.  Warm Cinnamon Rolls are the other major pull along with the Chocolate Croissants.  With Main Street Bakery converting over to Starbucks early next year, Big Top Souvenirs and the Tavern are going to be your two places to pick up Disney baked treats.  Sleepy Hollow Refreshments should continue to offer the popular Ice Cream Sandwiches.  I was amused that Disney Parks Blog originally put up a version of the menu that included the snack credit icon next to the Pork Shank.  You can see it's been hastily covered up and Parks Blog updated their menu.
Red's Apple Freeze from Cars Land makes its way over to the East Coast in the form of LeFou's Brew.  Like many, I was disappointed Disney couldn't come up with a unique frozen beverage for Gaston's.  You wouldn't think it would be that difficult.  If it isn't baroque, don't fix it I guess.
The Stein is Gaston and the Goblet is Belle.  Or you can just ask for the character you want.
Busting out random French.  Tres annoying!
I ordered both.
It is with deepest pride and greatest pleasure that I present to you the Roasted Pork Shank.  It was delicious.  Positively primeval.  I really couldn't believe it.  The meat is moist and tender and there's a ton of it.  It's roasted to perfection with outstanding seasoning.  I wouldn't leave Gaston's without one.  It was also much easier to eat than the Turkey Leg because the bone doesn't splinter.  While it isn't as physically large as the Turkey Leg, I think it's just as much meat and it's much easier to handle.  Five stars.
I enjoyed Red's Apple Freeze, I mean LeFou's Brew, but it gets mixed reviews.  If you like Apple Juice with added sugar and sweetness, you'll probably like this.  You may want to commit to one before committing one for each family member.  These steins were printing money for Disney.  It seemed like just about everyone was carrying one.  It looked like the regular $4.49 version was a larger portion than the souvenir cup, which also isn't dishwasher safe.  As far as the cup, it's okay quality plastic.  If you do spring for it, just keep in mind that you're going to have to carry it around with you.  Rinse it out in the bathroom and toss it in a backpack or stroller if possible.
Inside, the seating area is also on the small side with Disney's prototypical uncomfortable stools that will get you out the door as quickly as possible.  Lingerers…
Looks like the decorating department went the antler route.
So Disney removed Wilson from Kilimanjaro Safaris, eliminated the anti-poacher storyline, and is now promoting the murder of animals at Gaston's.  Coincidence?  No one plots like Disney.
With the size of those animal heads, it looks like they were shot outside Beast's Castle, if you catch my drift.
But the theming is otherwise excellent.  If Gaston was going to design a tavern, this would be it.  Though I imagine his directions would be, "Antlers, a lot of them.  And a roasty fireplace."
Haters gonna hate.
The $4.39 Hummus and Chips looked to be this Sabra Hummus with Pretzel Chips.  These are decently expensive in stores, so the $4.39 price isn't bananas.  But you're probably going to end up with more hummus than chips.
Overall, Gaston's impressed.  I didn't see the Pork Shank coming and it was delicious.  LeFou's Brew is a matter of taste.  It's extremely sweet and apple-y, which doesn't appeal to everyone.  It's certainly worth trying though – just grab a handful of straws.
Everything is going just swimmingly so far.  In between Gaston's and Bonjour Gifts in the back of the Village, you'll find a set of bathrooms.
As pictured.
With a Dyson hand dryer that actually drys your hands quickly.
But don't worry fans of generic brown paper towels, they're available too.
Everything is themed back here – even the water fountains that look like a pump.
Over to Bonjour Gifts, where we'll find some nice unique merchandise.  There were a ton of people in there so these aren't the best pictures.
Some good looking "upscale" plates, cups, wine glasses, and coasters.

Not for sale I think.

Theming in here is okay…nothing spectacular.

I bought two of these cups.  Review at the end.

Chocolate roses.

Mirror mirror on the wall.

Coasters are sold in sets of four for $22 if I recall correctly.

And we'll end with a creepy painting of Phil Holmes, Vice President of the Magic Kingdom.  He's rocking his 40 year ring and the book is opened to a map of the Magic Kingdom.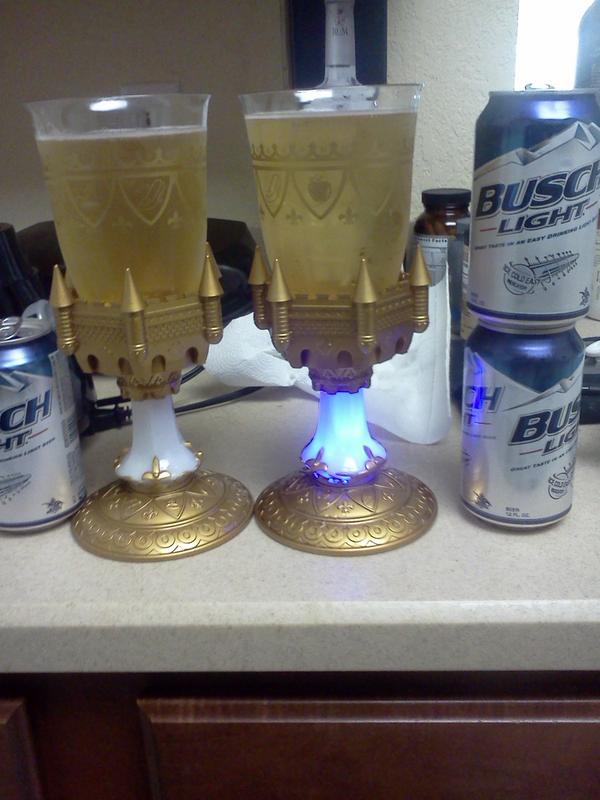 Le expertly taken camera phone picture of the Magic Kingdom souvenir goblets – $15.95 each.  Standard Disney quality, meaning one leaks and the lights don't work on the other.  So you might want to check that out before buying.  Otherwise, they're a lot of fun.  I expected Sara to make fun of me for bringing them home, but even she laughed at how cute they are.  I bought one for me and one for Walt so we can get wasted on Busch Light before heading over to Be Our Guest Restaurant next month to swear at grandmothers and push over toddlers.  If you're ever pouring yourself a glass of Chivas Regal, you're going to want to pour an extra glass for Walt.  It's kind of like Elijah's Cup.  You just never know when he's going to show up.
The theming in Belle's Village is outstanding.  It's immersive, detailed, and actually makes you feel like you've been transported to Belle's Village, even while being surrounded by Mine Train construction.  Gaston's Tavern was a pleasure, though LeFou's Brew isn't going to be universally loved.  Get it?  Universally?  At least the Pork Shank I had was amazing.  Let us know if your experience differs.  I'm dangerously close to buying up all the Bonjour Gifts merchandise and I own very few Disney souvenirs.
Next up we'll hope on the Mermaid Ride and meet Ariel.